Our Kit Multi Tool packs 11 useful functions into 1 handy tool, including a Can Opener, Screwdriver, Serrated Saw, Bottle Opener and more. Specifically designed for promotional purposes, you can Screen Print or Laser Engrave your logo, slogan and more on the dedicated branding areas.
Colours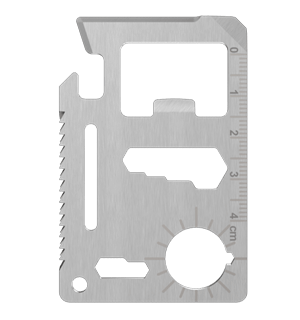 Silver
Branding Options and Print Area

Branding Area designated by

Area Left: 30mm X 5.6mm
Area Right: 17.4mm X 12.8mm
Screen Printing
Screen Printing
Show romanization ويبين هذا المنتج يمكن وصفت باستخدام تقنية تسمى 'طباعة الشاشة ، ومعظم المنشأة طريقة لطباعة على الكائنات. اسعارنا دائما تشمل طباعة الشاشة ما يصل إلى 4 في الألوان على جميع المناطق طباعة. شعار الفني للمنتجات وينبغي مع هذا الرمز سيتم تحميلها في شكل ناقل مثل. العائد على السهم ، لمنظمة العفو الدولية ، or.cdr. وينبغي أن يتم تحويل الخطوط إلى الخطوط العريضة و 'جميع الالوان' الصلبة ، بدلا من النغمات أو ظلال.
Laser Engraving
Laser Engraving
ويبين هذا المنتج يمكن الماس أو الليزر المحفور. النقش يعطي تأثير أنيق جدا المهنية. اسعارنا دائما تشمل الحفر في جميع المجالات brandable تظهر على المنتج الوصف. وينبغي أن شعار الفني للمنتجات مع هذا الرمز يكون تم الرفع في شكل ناقل مثل. العائد على السهم ، لمنظمة العفو الدولية ، و. مجلس الإنماء والإعمار. يجب أن تكون الخطوط تحويلها إلى ويجمل جميع الألوان 'الصلبة' ، بدلا من نغمات أو ظلال.
Features
Super slim design at just 2mm thin


Easily slides into your wallet or purse sleeve


Made from durable stainless steel


Two areas to Screen Print or Laser Engrave with your logo


11 useful functions in 1 model


Includes Wrenches, Water Compass, Saw, Can Opener and more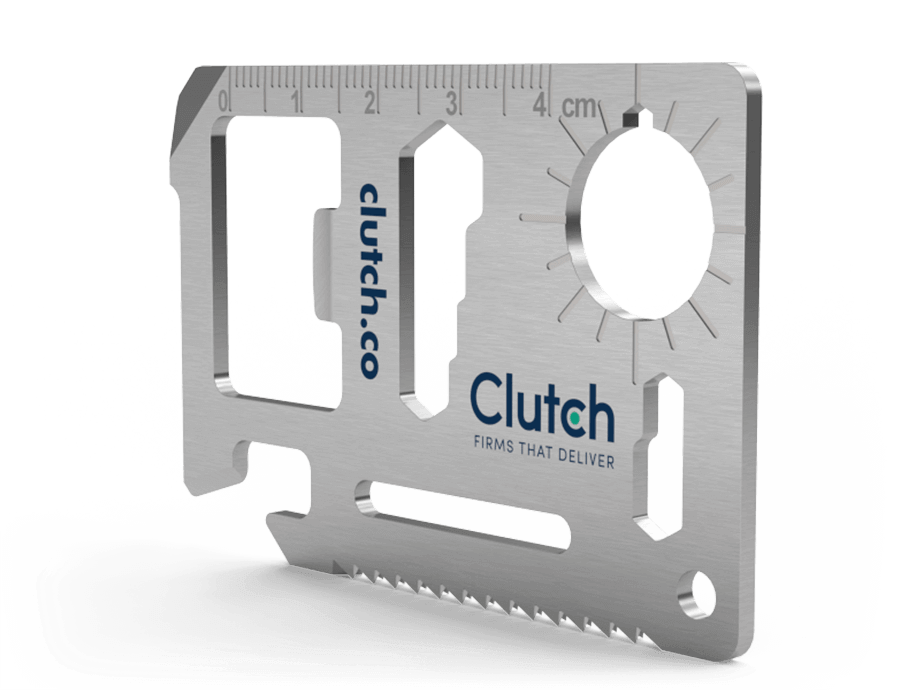 How they come

Services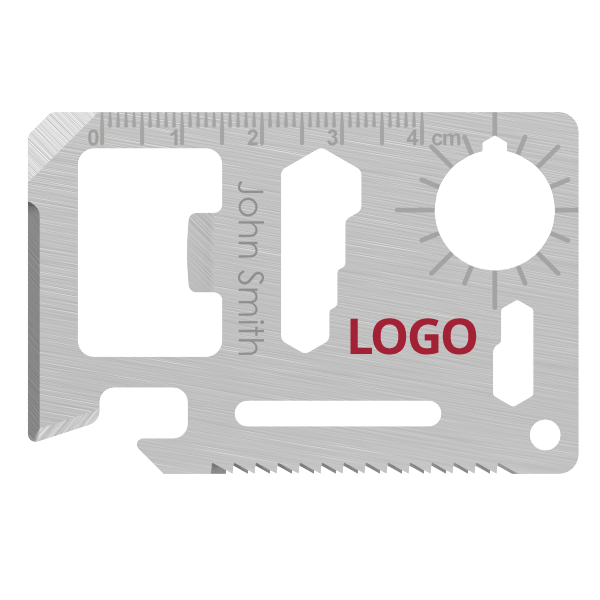 Individual Naming
We can engrave every item in your order with a unique name or serial number. These unique values will accompany your logo and slogan on the product. Our Individual Naming service is especially popular among schools and universities.
Dimensions and Weight
Length: 69mm (2.72 inches)
Width: 45mm (1.77 inches)
Height: 2mm (0.08 inches)
Weight: 29 grams (1.02 Ounces)

Environment
Where plastic is used for non-visible internal parts, these materials come from 100% recycled sources

RoHS This product fully conforms to RoHS Directive (EU Restriction of hazardous substances).