Our Nova Water Bottle is a fantastic giveaway item at Conferences and Events. Made from high quality stainless steel, it features a double wall construction to keep drinks hot or cold for longer. The large branding area can be screen printed in 1-3 colours or laser engraved with your logo.
Colours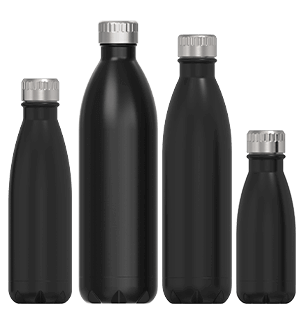 Black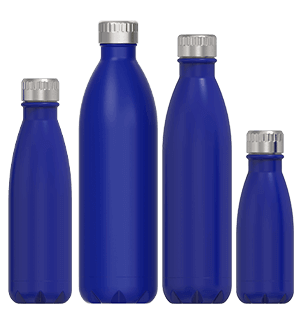 Pantone Reflex Blue C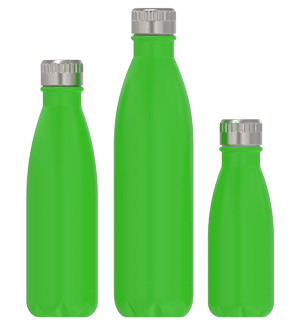 Pantone Green 361 C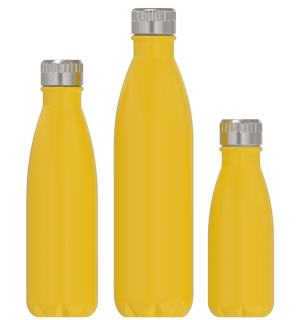 Pantone Yellow C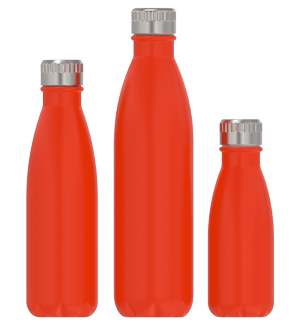 Pantone Orange 021C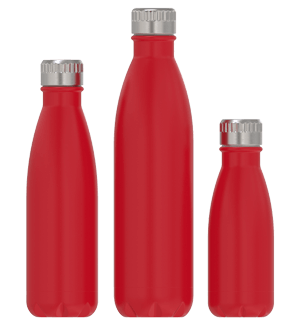 Pantone Red 186 C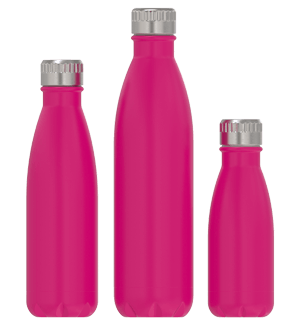 Pantone Rhodamine Red
White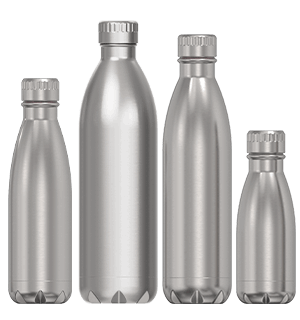 Silver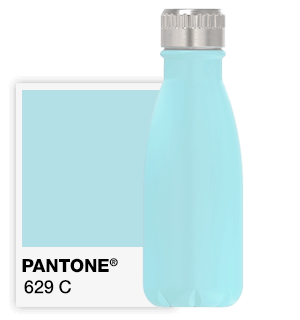 Or we can Pantone® match the Water Bottle to a colour of your choice for 500+ units.
Learn more
Branding Options and Print Area

Branding Area designated by
Nova 750
Screen Printing:
Area Side: 110mm X 85mm
Laser Engraving:
Area Side: 100mm X 85mm
Nova 500
Screen Printing:
Area Side: 80mm X 80mm
Laser Engraving:
Area Side: 70mm X 80mm
Nova 260
Screen Printing:
Area Side: 55mm X 55mm
Laser Engraving:
Area Side: 50mm X 80mm
Screen Printing
Screen Printing
Show romanization ويبين هذا المنتج يمكن وصفت باستخدام تقنية تسمى 'طباعة الشاشة ، ومعظم المنشأة طريقة لطباعة على الكائنات. اسعارنا دائما تشمل طباعة الشاشة ما يصل إلى 4 في الألوان على جميع المناطق طباعة. شعار الفني للمنتجات وينبغي مع هذا الرمز سيتم تحميلها في شكل ناقل مثل. العائد على السهم ، لمنظمة العفو الدولية ، or.cdr. وينبغي أن يتم تحويل الخطوط إلى الخطوط العريضة و 'جميع الالوان' الصلبة ، بدلا من النغمات أو ظلال.
Laser Engraving
Laser Engraving
ويبين هذا المنتج يمكن الماس أو الليزر المحفور. النقش يعطي تأثير أنيق جدا المهنية. اسعارنا دائما تشمل الحفر في جميع المجالات brandable تظهر على المنتج الوصف. وينبغي أن شعار الفني للمنتجات مع هذا الرمز يكون تم الرفع في شكل ناقل مثل. العائد على السهم ، لمنظمة العفو الدولية ، و. مجلس الإنماء والإعمار. يجب أن تكون الخطوط تحويلها إلى ويجمل جميع الألوان 'الصلبة' ، بدلا من نغمات أو ظلال.
Features
Fantastic branding area for your logo, slogan and more


Secure no-spill lid


Reusable and environmentally friendly


Extremely popular at Events and Conferences


Ergonomic shape


Double-walled insulation


High quality food-grade stainless steel (18/8)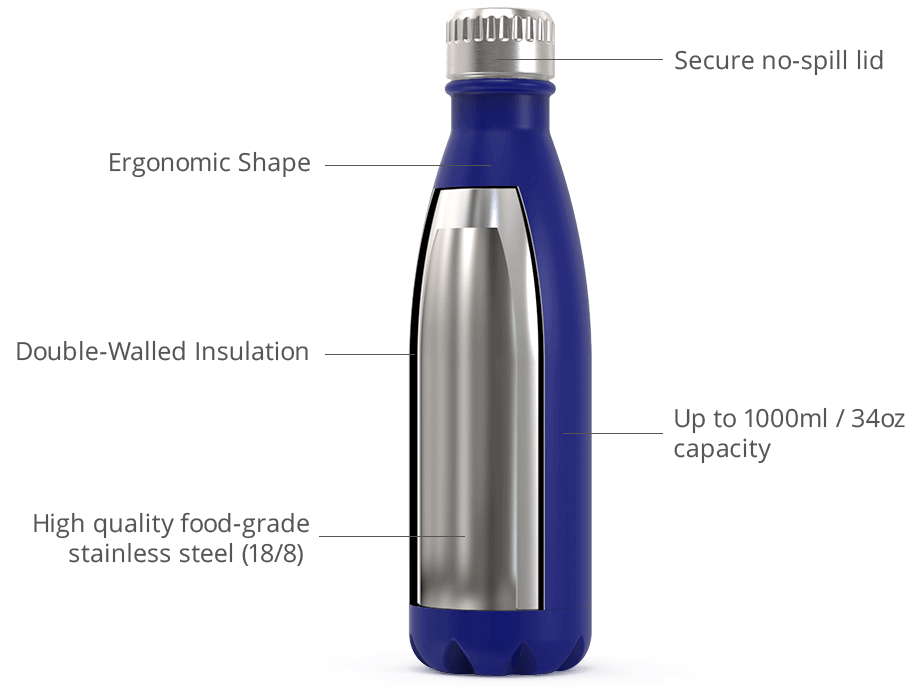 How they come
Your Water Bottle
(In plant based bag)

Packed in individual translucent bags made from plant based material - biodegradable and more environmentally friendly than plastic polybags.

Services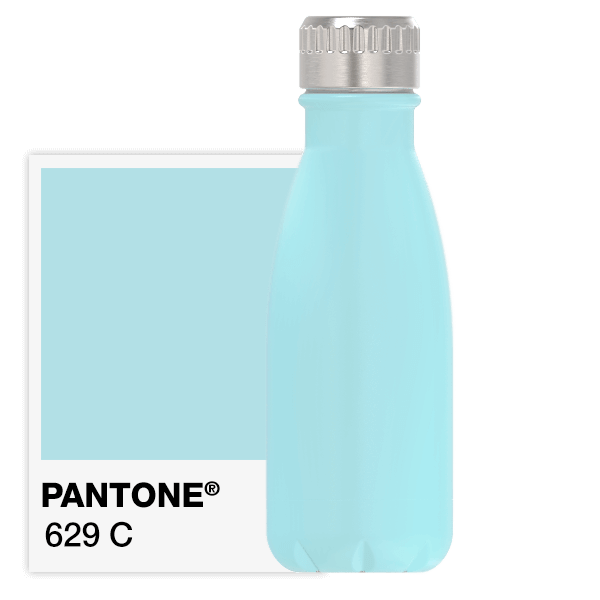 Pantone® Matched Water Bottle
We can Pantone® Match the body of the Water Bottle to your exact brand colors via our Pantone® matching service. Available for orders of 500 units or more.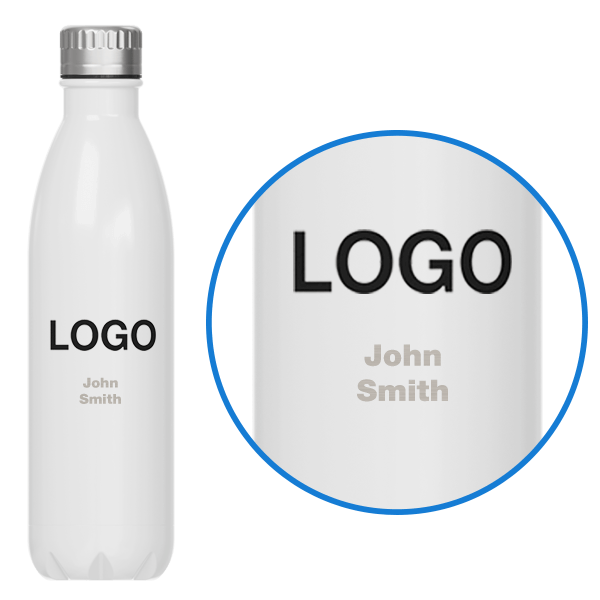 Individual Naming
We can engrave every item in your order with a unique name or serial number. These unique values will accompany your logo and slogan on the product. Our Individual Naming service is especially popular among schools and universities.
Accessories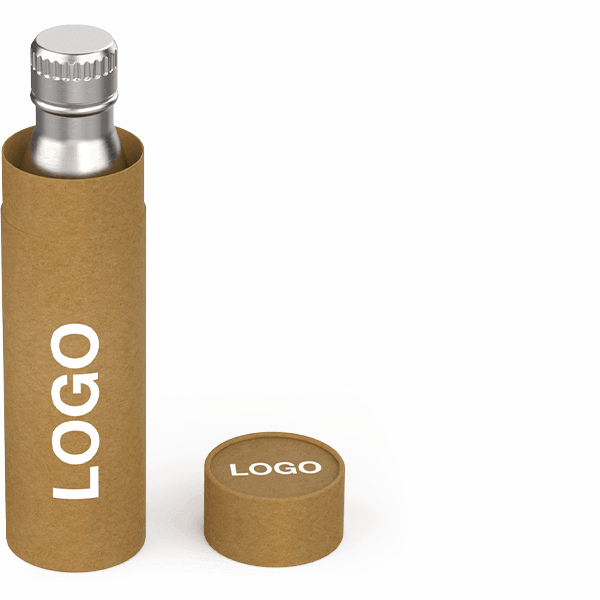 Printable Cardboard Tube Large
Our Cardboard Tube is a fantastic value-added accessory that securely stores your Branded Water Bottle inside. Available in Small, Medium or Large, the Tube is made from a premium high-density cardboard which is produced from 60% recycled materials. We can brand both the lid and the tube itself with your logo, slogan, website address and more.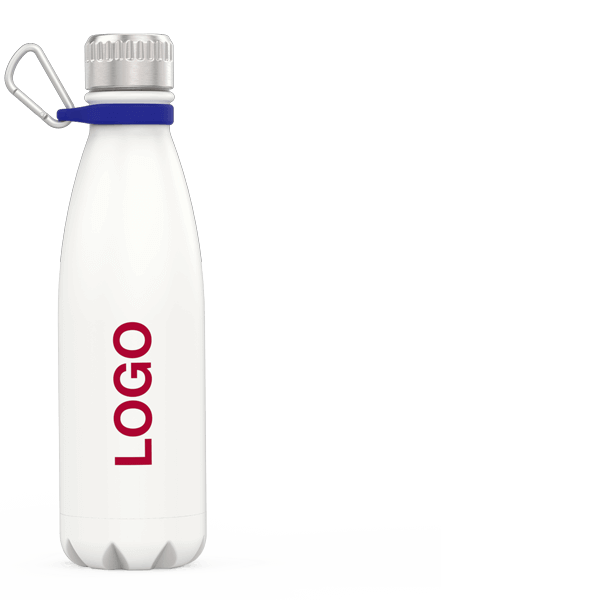 Collar & Carabiner
Our Collar & Carabiner accessory is a convenient add-on that can slip over the lid of your Water Bottle. The elastic rubber collar firmly attaches to your Water Bottle whilst the Carabiner clip features a spring-loaded clasp that can either attach to your backpack or you can hold onto when carrying in your hand.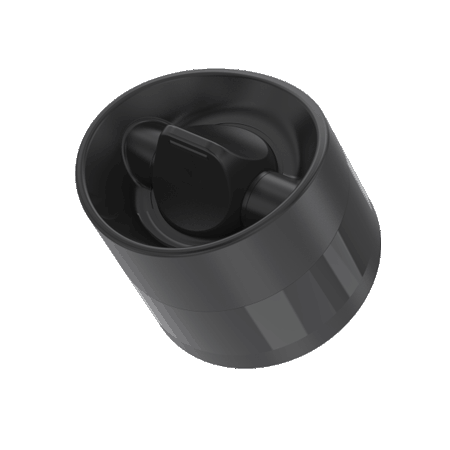 Sports Lid
The Sports Lid accessory is designed for easy drinking access when you're on the go. Simply flick the pop-top back and forth to open and securely close the drink spout. The Sports Lid securely fits the Nova 260ml/9oz and Nova 500ml/17oz bottle sizes.
Dimensions and Weight
Nova 750
Height: 305mm (12.01 inches)
Diameter: 80mm (3.15 inches)
Weight: 443 grams (15.63 Ounces)

Nova 500
Height: 257mm (10.12 inches)
Diameter: 71.5mm (2.81 inches)
Weight: 310 grams (10.93 Ounces)

Nova 260
Height: 200mm (7.87 inches)
Diameter: 66mm (2.6 inches)
Weight: 226 grams (7.97 Ounces)


Environment
RoHS This product fully conforms to RoHS Directive (EU Restriction of hazardous substances).
Recent Reviews of Nova
April 8, 2021
Excellent product
Excellent product, great communication and customer service. There was a slight issue with two of the bottles boxes and then responded quickly and sent out two new ones for free. Would definitely recommend!
March 31, 2021
Excellent customer service and product
Excellent customer service and a terrific product. Conor was easy to work with and helped me find the right items to work in our budget.
March 17, 2021
Everything was great
Everything was great. They helped with the design, produced a quality product and shipped it quickly. They were also very invested on the back end in making sure I was pleased with the custom product. Customer service really does go a long way when you can actually find it now a days, and Flashbay was definitely great about it.
February 17, 2021
Fantastic service
Fantastic service, quick response from Tom. Managed all my requests and supplied the perfect bottles for our project. Will definitely use again and highly recommend.
December 13, 2020
Reliable seller
Reliable seller. Quick Response. They will monitor everything from the time your item left their facility until it reaches your place. Though there were some mishaps that happened during the delivery with the TNT courier, Lee Ronghua from Flashbay made sure everything is going well and will reach my place before our company event. will surely order from them again in the future. If you want personalized gifts to clients or just simple giveaways to your employees, try flashbay products/services.
August 31, 2020
Excellent, high-quality, friendly and timely.
From initial discussions about design options to delivering of the final product, I have found Flashbay services as excellent. Responses to questions were insightful, final designs were awesome, processing order was easy, and the delivery was timely. 5-star and highly recommended.
August 14, 2020
Great Customer Service and Products!
I worked with Conor Kennedy to get just the right water bottle for our company. He was very informative and made sure I had samples before making a choice. The final product came out great and I've already suggested Flashbay to other Executive Assistants that I know. During these crazy times, it's nice to know that you don't have to have a minimum order of 100 or more. Great company and fast delivery! I look forward to working with Conor again in the future!
August 13, 2020
We ordered some masks and water bottles…
We ordered some masks and water bottles as always, we are completely satisfy with the products received, good quality as always. Very satisfy with Marcus service, patience and willingness to work in a quick manner our requests. My person to go when merchandise is needed in my company!!!!