Blog Introducing the latest promotional tool – Lanyards with integrated USB flash drives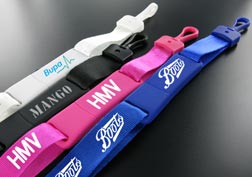 While lanyards have been mainly used to hold ID cards and personal objects such as whistles and keychains, they have also been popular tools for marketing and promotions.
A typical lanyard has a string with a plastic sleeve at the end to hold ID cards or any personal objects. They can be made in many different colours, although bright colours are quite common.
They are light weight, cost very little, and have important uses:
Marketing & Promotion - A custom logo promotional lanyard is a cost effective and powerful marketing method to expose your brand and promote your company. Tradeshow is a common place where you see people people walking around with a brightly coloured lanyards that bear a business name or logo on it.

Other events where you can hand out logo branded lanyards to help promote your business are conferences, charity events, parties, etc.

By giving customers and prospects lanyards with your company logo on it, your business gets plenty of brand exposure as people wear it while walking around. And since lanyards have practical uses, most people are likely to continue using it after the show or conference is over.

Name Badge and Security ID holders – Lanyards are also great to use in the workplace as company badges. For one, it improves safety and security since unauthorized outsiders without them can be quickly identified by employees of the company.

Secondly, it promotes better interactions between employees and employees (especially in big corporations) and between employees and visitors since the employee's name and position is prominently visible.
As you can see, lanyards are popular because they have practical uses. Now, imagine how much more popular and useful they get when integrated with USB flash drives.
As you know, USB flash drives are great for storing digital files such as photos, videos, presentations, and any documents. With USB flash drives, you can easily download and share files with your friends, co-workers, or family members.
Introducing the Event flash drive from Flashbay
The Event USB is the latest logo branded USB flash product offering from Flashbay. It integrates a USB Flash Drive with the familiar lanyard neckstrap.
Flashbay employs a patent pending mechanism that uses a rare earth magnet to allow quick-release access to both the USB Drive and the important attached items at the end of the lanyard.
This cool mechanism has the added advantage of allowing the Flash Drive end of the product to safely 'break away' from the neckstrap lanyard should it become snagged by accident.
Flashbay offers them in a wide variety of beautiful colours and both the USB Flash Drive and the lanyard neckstrap can be imprinted with your company logo and slogan.
So, whether you choose to hand them out to customers and prospects as promotional gifts or make your employees wear them as ID badges, the Event lanyard USB products from Flashbay will surely get them excited.
Lanyard promotional USB Flash Drives