Blog Keep Your Branding Message Visible in the Hands of Your Target Audience with Our Ink USB Flash Pens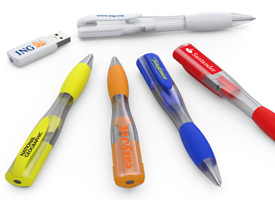 Some of you have been asking us for a stylish and fun, yet low cost promotional usb pen product. The wait is finally over. After extensive research and refinements by our product designer, we are launching an innovative usb flash pen product worthy as a promotional gift.
During our research, we found that other USB pen designs currently in the market tend to compromise comfort and aesthetic appearance in order to integrate the USB flash drive component.
"We have always felt that current USB pen solutions are too cumbersome and there is a space in the market for a simple and fun design that is slim, compact and comfortable enough to be used effectively as a pen. Our design also has the added benefit that it still functions perfectly as a pen even when the USB flash drive is removed, unlike many other designs", said Charlie Billington, Flashbay's product designer.
Our Ink USB pen is ergonomically designed, constructed from precision injection molded plastic parts, and has an integrated magnetic mechanism to hold the USB flash drive in place.
Ink USB Flash Pens with innovative magnetic mechanicsm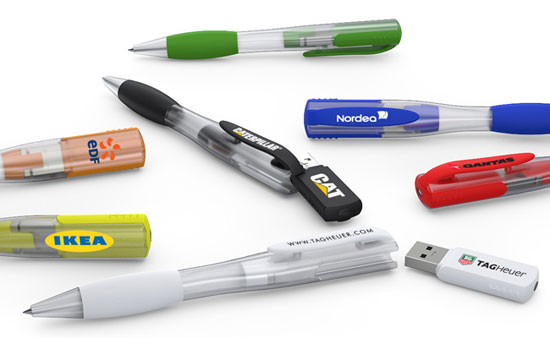 Additionally, our Ink USB flash pen offers superior quality and is light and comfortable to hold. The high speed USB flash drive can easily be separated from the magnetic connection by sliding it straight out from the top of the pen. Very little force is required to remove the flash drive for use and yet the magnetic mechanism holds it securely in place at all other times.
If you are looking for a cool and fun, yet low cost and ergonomic promotional USB flash pen to delight your target audience, we are confident that you will like our Ink USB pen design.
Your company logo, slogan, message, or website URL can be printed on the clip as well as on the back of the pen. Since it has a removable ink refill, the pen has a long service life, ensuring that your branding message remains visible in the hands of your customers, prospects, partners and employees for a long time to come.
The Ink USB Flash Pen product comes in 8 standard colours and Flashbay can optionally Pantone® match the coloured body parts to your corporate palette. In common with all Flashbay usb models, the Ink contains high speed grade-A NAND flash memory and is available in capacities from 32MB all the way to 16GB.
Additionally, Flashbay offers an elegant looking plastic magnetic box as a packaging option, custom designed to present the Ink USB pen in the best possible light.
Elegant magnetic box for the Ink USB Flash Pen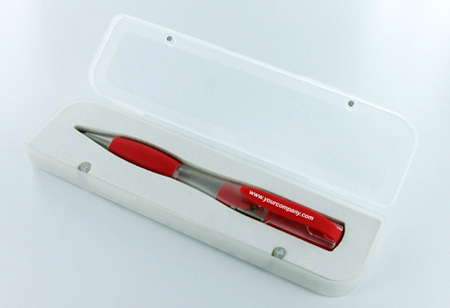 You may place orders for the Ink USB flash pen product starting April 14th 2011 on a lead time of 6 working days from order to delivery.
For more information on this innovative and fun promotional USB Flash Pen product, check out the full product description and specifications at www.flashbay.co.uk/usb-pen.html.