Blog Introducing the USB Business Card – A Cool and Powerful Lead Generating Marketing Tool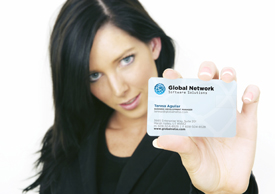 The business card is an inexpensive and popular marketing tool. You have probably passed out hundreds if not thousands of your business cards to clients and prospects at meetings and events.
But do you think most of your prospects keep your business cards around for long? Like it or not, your business cards probably got crumbled up and ended up in the trash or tossed away somewhere.
Indeed, business cards can be powerful marketing tool, but they won't win you new businesses if they don't leave a big impression on your prospects!
Most Business Cards Are Just "Boring" Contact Info Cards
Most business cards have the same basic information such as:
A company name and logo
Your name and title
Your contact information (phone, fax, email)
While the above are important and necessary information, they do nothing to engage your prospects or impress them. They're quite boring!
Furthermore, if your business cards appear flimsy and cheap, you could turn off lots of potential clients.
Now, if you want to create a lasting impression and make prospects remember you, you need a cool and unique business card!
Why You Need a Cool and Unique Business Card
Your prospects receive tons of business cards from competing companies such as yours. To stand out from the pack, your business card must immediately impress and engage the prospects.
It's time to try something new, something that can help you dramatically boost the lead generating potential of your business card.
The USB Business Card – The latest marketing tool to power your lead generating efforts
Global Software USB Business Card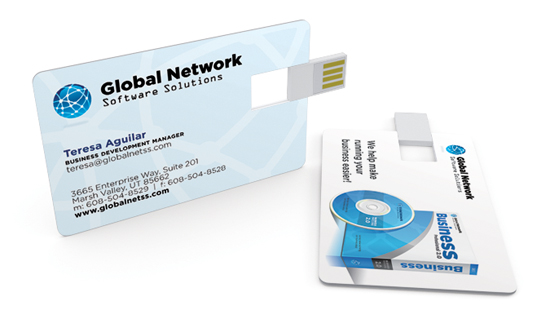 With a sleek design and vibrant images of your logo and business imprinted, the USB Business Card instantly impresses and engages your prospects.
If you haven't already used USB Business cards, here are compelling reasons why you should get them soon.
They instantly generate buzz and help your stand out.
You can preload the USB business card with your product catalogs, videos, Powerpoint presentations, or anything you could think of to promote your business.
Your USB Business Card functions as a USB storage device, allowing your recipients to use and keep your business card around for a long time.
Their slim design fits neatly into your wallet or pocket.
They generate more leads for your business!
As you can see, the USB Business Card is a lot more impressive and powerful than the standard business cards and brochures.
So, the next time you go to a tradeshow or an event, arm yourself with enough USB Business Cards to impress your prospects and generate more leads for your business!